WTS Forklift Tipping Skip
The WTS Forklift Tipping Skip is suitable for moving materials or rubbish.
Product details
The WTS Forklift Tipping Skip is suitable for moving materials or rubbish. The WTS Froklift Tipping Skip is the ideal tool to help maintain a clean and efficient building site.
The WTS Forklift Tipping Skips features include, tip handle with safety catch, automatic reset, 3 way entry base, safety chain, reinforced top edges with the skip body manufactured from 3mm steel.
More Info
At Whitney Engineering we have been supplying a wide range of forklift attachments for all of your handling requirements for over 25 years. We hold a large stock of attachments which we can ship nationwide at short notice.

Our most popular forklift attachment is the Whitney Forklift Tipping Skip (WTS). These high quality low cost versatile skips are used in a wide variety of different environments which include: building sites, factories, recycling plants and warehouses. They are the ideal tool to help maintain a clean, efficient and safe site. These skips come complete with reinforced top edges, tip handle with safety catch and an automatic reset feature. We stock three different sizes, 750, 1250 and 1750 litres. They can also be manufactured to bespoke sizes along with many different optional extras which include: 3 way feet for side forklift entry, 2 part hinged lids, lifting lugs (tested to a SWL of 2T and supplied with certification to comply with LOLER regulations), and rubber lined for sites with noise restrictions plus many more. All of our skips are CE marked and come complete with a Certificate of Thorough Examination.

In addition to our standard WTS tipping skips we also supply a heavy duty tipping skip (HDI). These robust tipping skips come complete with a reinforced frame and a heavy duty safety chain. The 750L and upward models are made from 5mm steel.

For the ultimate in driver safety, we have designed the Whitney Auto Tipping and Auto Locking Forklift Tipping Skip (ATF). With no driver intervention required to secure the tipping skip to the forks or for the tipping process. The driver simply fully engages the forks through the fork pockets then lifts the skip up off the ground to engage the automatic fork lock. To activate the auto tip simply lower the skip onto the receiving container and the skip will automatically tip. It couldn't be any easier!

We have also designed a skip to be used exclusively with telehandlers. The Whitney TeletubTM Telehandler Skip is suitable for all makes of telehandler with 125mm wide forks. The TeletubTM automatically locks and unlocks from behind the heel so the driver always stays safely within the cab. The tipping is also controlled from within the cab and as the skip does not pivot then this means there is no shock to damage the telehandler.


You may also be interested in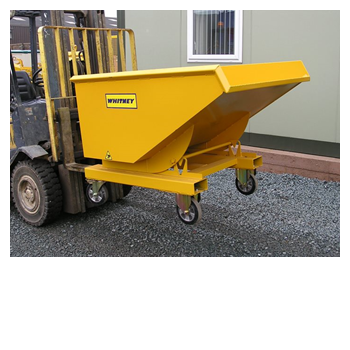 WTS Forklift Tipping Skip (Castors)
The castor version of the WTS Forklift Tipping Skip is suitable for moving materials or rubbish inside buildings.
More Info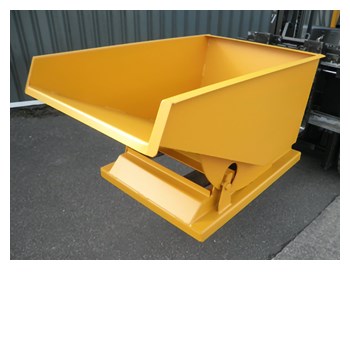 HDI - Heavy Duty Tipping Skips
The HDI Heavy Duty Forklift Tipping Skip hopper body has folded top edges, strong easy action handle complete with safety catch
More Info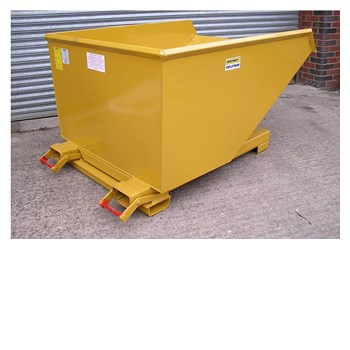 Telehandler Skip (Teletub)
Whitney Teletub™ is suitable for all makes of telehandler with 125mm wide forks
More Info